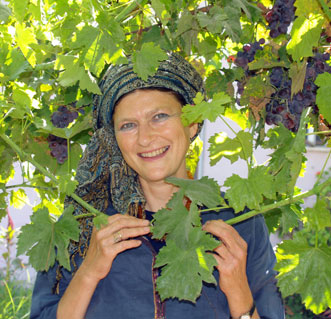 Rebbetzin Chana Bracha Siegelbaum  Director / Tanach / Women in the Bible
Rebbetzin Chana Bracha Siegelbaum, a native of Denmark, is founder and director of Midreshet B'erot Bat Ayin: Holistic Torah Study for Women on the Land. She holds a Bachelor of Education in Bible and Jewish Philosophy from Michlala Jerusalem College for Women, and a Masters of Art in Jewish History from Touro College. Rebbetzin Chana Bracha creates curricula emphasizing women's spiritual empowerment through traditional Torah values. In 2010 she published her first book, Women at the Crossroads: A Woman's Perspective on the Weekly Torah Portion. Her second book Ruth: Gleaning the Fallen Sparks was published in 2012, and her third book The Seven Fruits of the Land of Israel with their Mystical & Medicinal Properties is published by Menorah Books in 2014. In addition, the Rebbetzin practices EmunaHealing as a gifted spiritual healer through Emunah, tefilah and energy work. Chana Bracha has a married son and several granddaughters, and lives with her husband and younger son on the land of the Judean hills, Israel.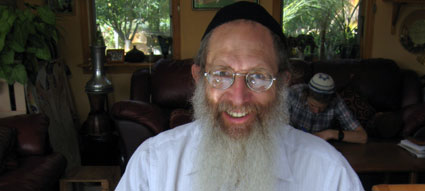 Rabbi Mechael Siegelbaum, MD  Askenazi Rabbi of B'erot / Halacha / Jewish Meditation
Rabbi Dr. Siegelbaum holds a BA in Philosophy and Psychology from Yale University, and an MD from Rutgers Medical School, New Jersey. Rabbi Mechael received his rabbinical ordination from Toras Zekeinim, Jerusalem in 1987.  
In addition to teaching Halacha in B'erot Bat Ayin, he practices medicine in various clinics.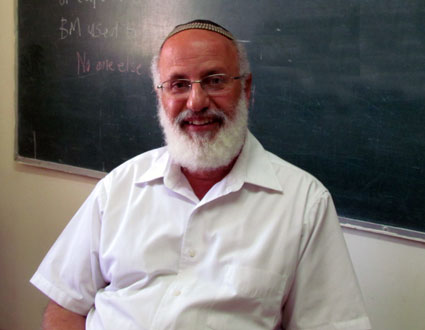 Rabbi Yosef Benarroch   Sefardi Rabbi of B'erot/ Rabbi of Conversion Program / Parasha / Halacha / Pirkei Avot
Born in Tangiers, Morocco, Rabbi Benarroch moved with his family to Winnipeg, Canada at a young age. He moved to Israel in 1982 where he spent nine years in Yeshiva studies attending the well known Mercaz Harav Yeshiva. He received his Semicha (Rabbinic ordination) at The Harry Fischel Institute. For nine years he served as the Rabbi of Congregation Beth Hamidrash, the Sephardic synagogue of Vancouver, Canada. He is currently the Rabbi of Midreshet Eshel (a seminary for young Sefardi women).
Rabbi Benarroch brings a love for Judaism along with a warm and open approach to the Midreshet B'erot. He lives in Efrat with his wife Elana. They are blessed with seven children and many grandchildren.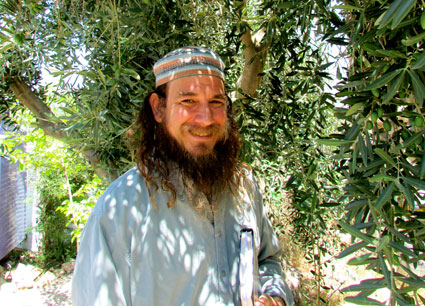 Rabbi Avraham Itzkovitz   Jewish Thought

Avraham spent the first 16 years of his life on American army bases in Europe and the United States while attending litvish style yeshivot, after which he made aliyah with his family to Jerusalem. After high school, he pursued his hobbies of rock keybordist/songwriter, creative writing and BMX biking while tutoring at Yeshivat Ohr Sameach and working in the optometry industry. His hobbies led him to Manhattan where he almost signed a record contract with Atlantic Records, but Hashem had other plans for him. Avraham returned to Jerusalem, worked as a landscape artist whilst studying psychology and anthropology at the Hebrew University. At the age of 27, he 'retired' to come study full time at the Bat Ayin Yeshiva for seven years. Avraham, his wife and 5 children live in Bat Ayin, where he teaches, practices safrut and therapy.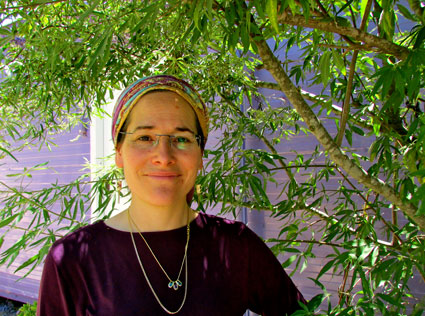 Tsipi Egert   Neviim (The Prophets)
Tsipi Egert grew up in Israel where she attended high-school. She received her B.A. in Jewish History from the Hebrew University of Jerusalem.
Tsipi has been teaching Neviim (The Prophets) at Midreshet B'erot Bat Ayin since 1998, and is currently pursuing an M.Ed in Tanach at Herzog College. She also works for Efrata College in Jerusalem in a leadership program for Ethiopian women.
Tsipi lives with her family in Efrat, Gush Etzion.
Rebbetzin Batya Kohn   Woman's Studies / Tefilla / Pirkei Avot

Rebbetzin Kohn is the Rebbetzin of Bat Ayin. She is certified as a family purity instructor, and has a degree in Social Work from the Orot School of Social Work. She gives private lessons in marriage preparation to our brides. In addition she works as a matchmaker and relationship counselor.
She lives in Bat Ayin with her husband Rabbi Daniel Kohn (the rabbi of Bat Ayin). They have seven children and many grandchildren.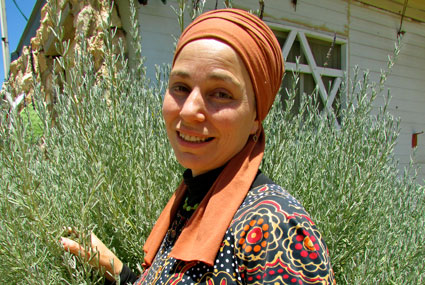 Devorah Konikov  Tefilla
Originally from New York, Devorah made aliyah with her husband in 1996.  She is currently studying Torat HaNefesh (psychology & Torah) based on the Ba'al Shem Tov.  She has a close connection with and experience as a tour guide at Machon HaMikdash (The Temple Institute). In addition to classes on tefilla, we are privileged to be able to offer to our students her extensive knowledge of the past two Temples and b'ezrat Hashem the 3rd and final Beit HaMikdash (Temple).
Devorah lives in Bat Ayin with her husband. They have 10 children and one granddaughter.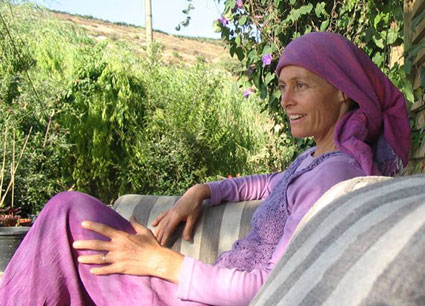 Esther Elfassi   Meditative Healing Movement
Esther Elfassi, born in Philadelphia, Pennsylvania, is a renowned yoga teacher, teaching for over 20 years, practicing for over 40. She has also been giving Swedish massage, reflexology, including feet/hands/head pressing on specific pressure points for the past 25 years. In addition she teaches raw food classes and guides women to undertake a juice fast.  She holds retreats in her home (in the past even weddings for couples who wished to have a simple cozy wedding) and also opens her home to other women teaching classes there that need the space to expand and take wide open breaths…
Esther lives with her husband in Bat Ayin on their land abundant with fruit trees, vegetables and herbs. They have six children and many grandchildren.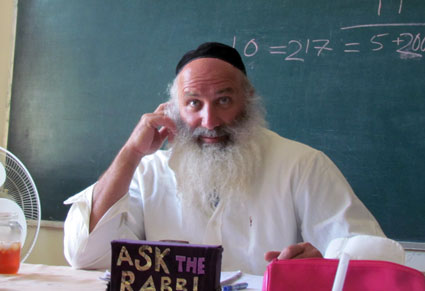 Rabbi Avraham Shira   Spiritual Writing Workshop / Rabbi Nachman
Rabbi Avraham Shira received a smicha in Kiruv from Rabbi Benayahu Shmueli, Rosh Yeshivat HaMekubalim, Nahar Shalom, in Jerusalem.  He has been a student and teacher in the Yeshiva since 1993.  He has taught at Midreshet Berot Bat Ayin since it was founded, specializing in Likutei Moharan, and conducting workshops in meditation, and spiritual creative writing.  He has also received a Masters Degree in Clinical Sociology & Family Therapy from the University of North Texas, Neve Yerushalayim Campus.  He has published a novel and translates a newsletter for Nahar Shalom.  Rabbi Avraham lives with his wife, Elisheva and their five children in Bat Ayin, Gush Etzion.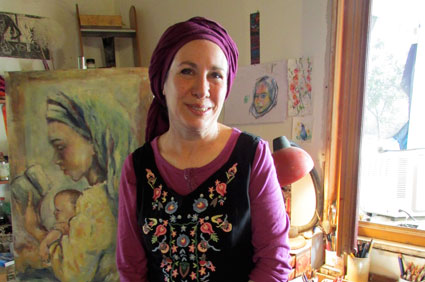 Elisheva Shira   Torah & Art
Elisheva Shira holds a Bachelor's degree from Parson's School of Design in N.Y.C. and a Master's of Fine Art from Suny New Paltz. Elisheva's paintings express the beauty, warmth and spiritual simplicity of the life that surrounds her and the incredible wonder of the Land of Israel.
She lives in Bat Ayin with her husband and five children. The Shira's have been teachers and friends of B'erot since the beginning. Elisheva's website is www.elishira.com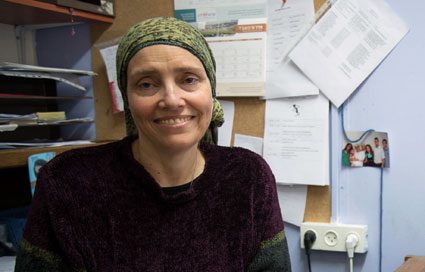 Rabbanit Elana Benarroch   Director of Staff and Student Affairs/ Kallah Teacher
Rabbanit Elana Benarroch is our Administrator. She has a BA in Psychology and Women's Studies from the State University of New York at New Paltz and served as a teacher of Judaic Studies in Vancouver, British Columbia, Canada. She is also a certified kallah (bride) teacher and birth coach, and helps many of our kallot prepare for their physical and spiritual entry into marriage and motherhood.
Elana lives with her husband, Rabbi Yosef Benarroch, and some of their seven children in Efrat.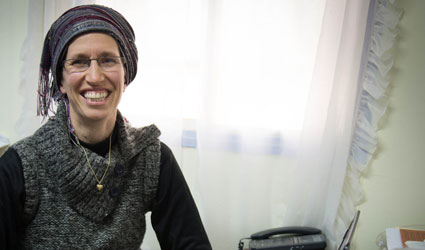 Elana Roth   Director of Administration and Public Relations
Elana Roth serves as the Director of Administration and Public Relations and assistant to Director Rebbetzin Chana Bracha Siegelbaum. Although her formal educational training is in physical therapy, she finds her current work to be fulfilling as she helps facilitate a deeper connection to Torah for women of all ages and backgrounds during their time in Midreshet B'erot.
Elana lives with her husband Yehoshua and their two children in Bat Ayin.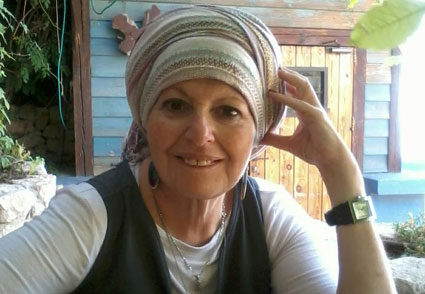 Rachelle Silver   Listings and Social Media Coordinator

Rachelle Silver is originally from the UK, she has a background in social work, counseling, management and education. Rachelle was the Embayit (dorm mother) of Midreshet B'erot Bat Ayin for two years and has continued to live in Bat Ayin maintaining her contact with the B'erot students.
Apart from being a "techno savvy" Grandmother, a blogger and educator, Rachelle is an inventive and creative cook, who as "The Kitchen Guru", is writing a healthy, dairy and wheat free organic cook book.