Special Seminars
Each seminar will assist you to make a deeper soul connection to Torah in your own unique way!
Upcoming Events
Rosh Chodesh Nissan
Bless the Trees
Sun, March 18
Day and Special Seminars
If you are looking for a holistic view and application of Torah, you'll find it at Midreshet B'erot Bat Ayin, as you incorporate Torah into every aspect of yourself – mind, body & soul. Our special events allow you to experience Torah that thrives both inside & outside of the beit midrash. Incorporate art, music, dance and drama into Torah living and learning. Traverse the hills of Bat Ayin where you can pick & learn the Torahs about the various herbs that grow naturally in the Judean Hills. Learn the medicinal properties and make a special tincture or hand cream to take home with you. Rosh Chodesh events come alive as you unite with one voice during women's musical hallel, learn the various aspects particular to each Hebrew month, stimulate your body as you participate in a meditative movement or alternative class and share a nutritious wholesome lunch! Challenge your mind with the textual classes offered! Live, eat, sing, play and dance in our sukkah as you experience a spiritually uplifting seminar in Bat Ayin. Or learn insights into the various fruits & brachot at the Tu B'Shevat seder which is like no other. Each seminar will assist you to make a deeper soul connection to Torah in your own unique way!
Bring a friend to any event & receive a free copy of Rebbetzin's book celebrating Jewish Femininity: "Women at the Crossroads"
Blessing on the Fruit Trees
Blessed are you G-d our G-d, King of the universe, who left nothing lacking in His world, and created within it good creatures and good trees with which He gives pleasure to people.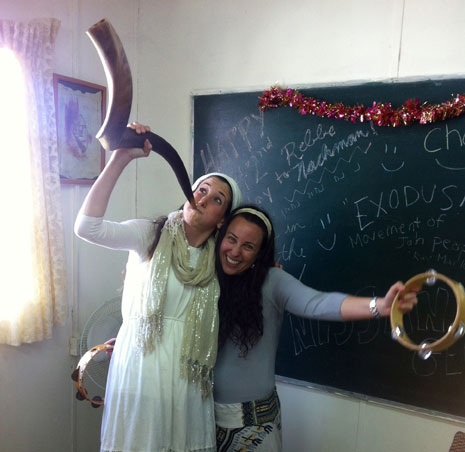 Rosh Chodesh Nissan Bless the Trees Shabbaton & Emunahealing Seminar
Friday-Sunday, 29 Adar – 2, Nisan (March 16-18)
As we get closer to Pesach, release yourself from your Pre-Pesach cleaning and join for a special Rosh Chodesh Nissan Bless the Trees Shabbaton & Yom Iyun in the beautiful setting of one of Bat Ayin's hidden treasures…the Midreshet B'erot Bat Ayin campus!
During Shabbat, discover insights about the Land and the holiness of the trees.  Truly experience a connection to the Land and learn about the blessings for the newly budding fruit trees!
Over Shabbat experience the enjoyment of Shabbat with an oneg Shabbat with one of Bat Ayin's favorite teachers!!!  Special musical melave Malka motzei Shabbat with members of Bat Ayin community.  Alternatively, if weather permits…possibility of a motzei Shabbat bonfire/kumsitz where can sing and dance as you connect with like-minded women.
Wake up Sunday morning to the peaceful setting of Bat Ayin.  Prepare yourself for the day with our meditative movement class. Design your own Miriam's drum and experience your own redemption from Mitzrayim.  Complete the day with Rebbetzin Chana Bracha Siegelbaum's unique Emunahealing Circle!
Cost:  NIS 150
Bring a friend, & receive a free copy of Rebbetzin's book celebrating Jewish Femininity: "Women at the Crossroads"
Any Questions: 02-993-4945, info@berotbatyin.org