Retreat Program
1-3 Adar / February 16-18, 2018 | At the exquisite Vallevue Estate, Morristown, New Jersey

Program Details | Facilitators | Schedule
Torah Wisdom 
The retreat is centered around stimulating Torah study sessions taught by award-winning author and renowned Torah teacher Rebbetzin Chana Bracha Siegelbaum of Midreshet B'erot Bat Ayin in the Holy Land of Israel. Together as women, we will explore Torah teachings about the Torah view on Astrology tuning into the energy of the month of Adar. We will also explore the role of music to restore the soul and achieve a higher level of consciousness. Meditation, visualization, music and even "laughing" yoga will be woven into the textual study for a completely integrated experience.
Song, Music & Dance
Music and song are profound vehicles for moving the spirit. We will express ourselves through joyful singing. Before and after Shabbat Rebbetzin Chana Bracha will be accompanying our sing along with her guitar. We will unify as holy Jewish sisters at the drum circle and Lesley Ruder will lead us in exhilarating "Drama Workshop for Sensitivity, Sanity and Simcha!"  Motzei Shabbat (Saturday night).
Meditation 
Based on techniques rooted in our own Jewish tradition, you will integrate Torah teachings through guided visualizations, connect to your Divine spark and enter the path of inner spiritual experience.
Meditative Movement 
Kosher invigorating Yoga sessions will facilitate you to observe your breath moving through your body, allowing your life force to awaken. You will discover, experience, and enhance the beauty that Hashem has imbued within your entire being.  Developing an awareness of your body-mind-breath connection will help you recognize and express your individual potential.
EmunaHealing 
Based on Torah sources on spiritual healing you will learn to let go and allow Hashem to act, in order to open blocks and engender healing and well-being. Steeped in Torah texts, EmunaHealing promotes spiritual growth and closeness to Hashem. Rebbetzin Chana Bracha's EmunaHealing workshops will teach you practical healing tools through strengthening your emunah and connecting with Hashem's light inherent in your neshamah.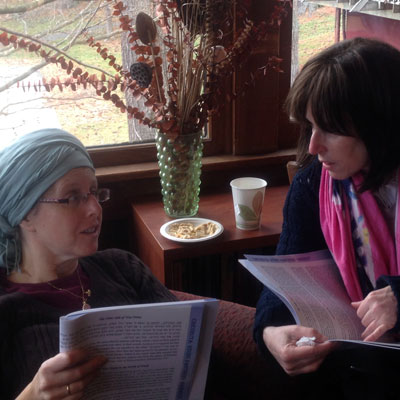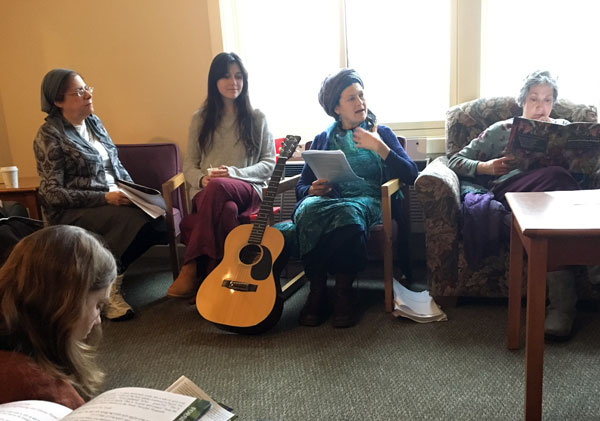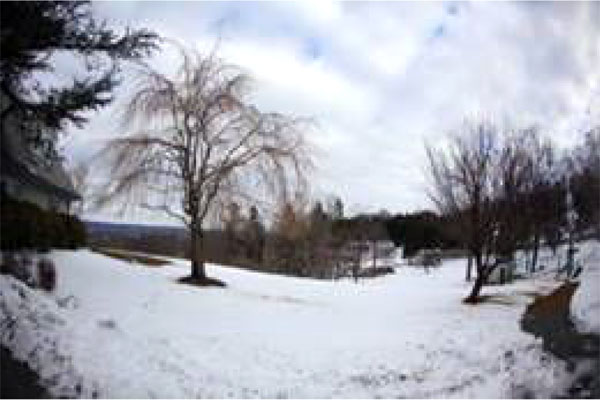 Women can bring redemption
Through supporting sisterhood we will heal our lives!
Let us sing and dance our way back to our lost Paradise!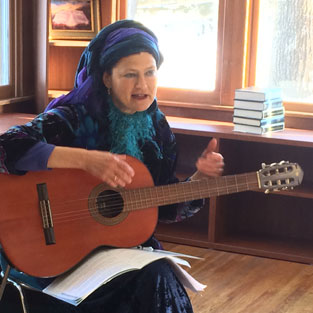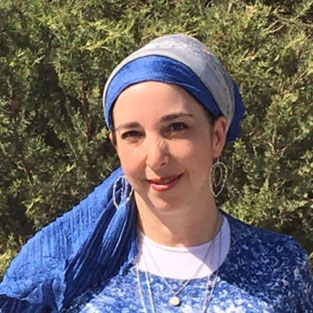 Rochel Weiman, grew up in Massachusetts and has been creating art since she can remember. She received her BFA in Design & Photography from The Cooper Union for the Advancement of Science and Art. She served as Art Director for many years for The Orthodox Union and currently is Senior UX Web designer for B&H in NYC and Marketing Communications Coordinator for EmunahWorld Events. Rochel has been involved in Torah and kiruv in Upper Manhattan for many years. She integrates her design background with her knowledge of Torah to nurture the creative mind. She developed Emunah Art: Trusting Our Creative Self to develop an awareness and appreciation for our emunah-inspired creativity. emunahworld@gmail.com.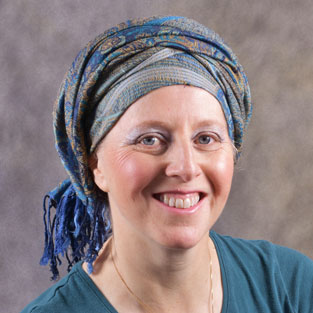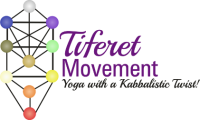 Bracha Meshchaninov is both a Registered Yoga Teacher (RYT-500) as well as a Certified Yoga Therapist. She received her certifications from Yoga Mountain Inc. and did additional training with Paula Heitzner of The Nyack Yoga Center. She has been practicing yoga since she was a teenager. After over 35 years of enjoying the benefits of a regular practice, Bracha decided the time was right to share the gift of Yoga and meditative movement with others.
Bracha has created her own Yoga Studio in the New Hempstead area, providing a comfortable space where women can practice yoga in a culturally sensitive environment. Tiferet Movement has been called "Yoga with a Kabalistic twist!" Bracha has also been studying and teaching Torah, Chassidus and Jewish Mysticism for as many years as she has been doing yoga. She provides a unique approach to the philosophy and understanding of the mind, body and soul from an integrated and Jewish perspective.
Bracha Meshchaninov is the founder of Tiferet Movement Moving to find harmony in mind, body and soul Women's Only Yoga studio, where she teaches women to strengthen, stretch, relax, balance, meditate and breathe. Her Yoga classes will help reduce stress and an increase in a sense of balance and inner harmony.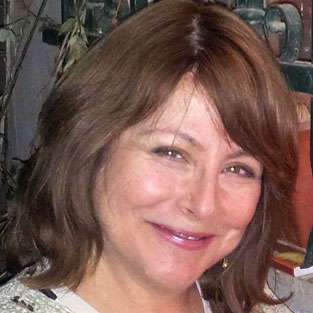 Leslie Gold Ruder segued from her long career in professional theatre, film and television –  acting, directing, producing, casting, stage managing and play writing, (her acting training includes the American Conservatory Theatre in San Francisco, the Philadelphia Shakespeare Company, The Walnut Street Theatre, and New York Theater Workshop), to learning about, and then practicing, Torah Judaism, through Aish haTorah in Los Angeles, where she had gone to seek fame, fortune and an Oscar!  Leslie went on to study at She'arim College of Jewish Studies for Women and at the magnificent B'erot Bat Ayin..  Now a long-time Passaic, NJ resident, wife and mother, Leslie currently teaches acting for women and girls, emcees events and performs now and then, including most recently in (a small part) in the upcoming Episode 5 of the popular comedic web series "Soon By You."   Leslie's latest projects are creating a podcast for women and writing the first for-women-only Broadway show.  Leslie's Acting & Improv workshops for women 18-80+ are sought after around the US and Israel, and have been called  "Transformative," "Better than any therapy I've ever had!" and "The highlight of the Retreat!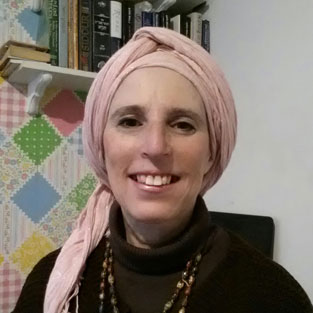 Miriam Shaw earned a B.S. for Graphic Design in 1979 and a second B.S. for Information Systems Management in 1981, both at Buffalo State College. She majored in graphic art, pottery, jewelry, drawing, painting, computer programming and systems analysis. Miriam who is an accomplished artist also expresses herself as a singer/songwriter. Her most famous song called How, is a popular camp song found in Chabad camp songbooks. She has performed for Women's groups and Bas Mitzvahs since 1986 in the USA, UK, Holland and Israel. Miriam will guide us with a musical tefillah during the Shabbaton as well as a women's drum circle motzei Shabbat. facebook.com/MiriamLeahsArt | miriam-shaw.pixels.com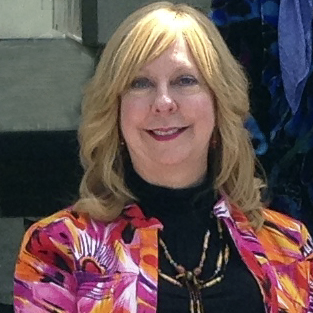 Esther Sara Weiner is an intuitive healer who helps her clients break through internal – often hidden– blockages to achieve emotional and spiritual growth.  She has developed her own unique style of utilizing different healing modalities, including intuitive guidance, touch, visualization and hypnosis.  The courses she has taken in EmunaHealing have further enriched her practice and benefited her clients with new insights.


Friday Yom Shishi 1 Adar (February 16)
12:00 – 12:30 PM

Arrival / Registration

12:30-1:30 PM

Settling into your room / Getting Acquainted / Personal Shabbat Preparations

1:30-2:10 PM

Fun Interactive Icebreakers


Leslie Ruder

2:15-3:15 PM

Torah Class: Spiritual Insights on the Month of Adar


Rebbetzin Chana Bracha Siegelbaum

3:15-4:15 PM

Late Shabbat Preparations / Rest

4:15- 5:00 PM

Healing with Light & Candles / Candle-lighting Meditation


Rebbetzin Chana Bracha Siegelbaum

5:14 PM

Candle-lighting followed by Kabbalat Shabbat with Dancing


Miriam Shaw & TBA

6:30-8:00 PM

Dinner Simcha Sharing Circle / Z'mirot singing

8:00 -8:30 PM

Parasha Meditation The Mishkan – A Spiritual Healing Structure


Rebbetzin Chana Bracha Siegelbaum

8:30-9:30 PM

Manifesting Happiness in Hashem – as a Pathway to Overcoming Depression and Finding Inner Peace


Esther Sarah Weiner

9:30-10:15 PM

Spiritual Tiferet Movement 


Bracha Meshchaninov

 
 
 
 
Shabbat Day, 2 Adar (February 17)
7:30-8:00 AM

Spiritual Messages of Tiferet Movement


Bracha Meshchaninov

8:00-9:00 AM

Gentle Tiferet Movement (Yoga inspired)


Bracha Meshchaninov

9:00-9:30 AM

Optional Breakfast Snack

9:30-10:30 AM

Communal Morning Tefilah / Meditation Circle 


Miriam Shaw & TBA

10:30 AM -12:30 PM

Kiddush Followed by Shabbat Seudah (Second Meal)

1:00-2:15 PM

Emunahealing Workshop: Torah, Music & Mindfulness
for Overcoming Depression and Achieve Higher Consciousness


Rebbetzin Chana Bracha

2:15-4:00 PM

Siesta

4:00-4:45 PM

Refreshing Herbal Hike or Gentle Tiferet Movement Stretches


Bracha Meshchaninov

5:00-6:15 PM

Seudat Shelishit (Third Meal)
 
 
 
 
Motzei Shabbat Night 2 Adar (February 17)
6:15 PM

Havdalah

7:00- 8:00 PM

Drama Workshop for Sensitivity, Sanity and Simcha!


Leslie Ruder

8:00- 9:00 PM

Soul Stir Sefirot Dance
Shelley Dembe

9:00- 10:00 PM

Drum Circle & Dance


Nechama Tarlow

 
 
 
 
Sunday Yom Rishon 3 Adar (February 18) 8:00-10:30 AM
8:00-9:15 AM

Breakfast

9:30-10:15 AM

Closing: Sharing / Healing


Rebbetzin Chana Bracha & Esther Sarah Weiner

 

 

 

 
Sunday Yom Rishon 3 Adar (February 18) 10:30 AM-4:30 PM
Adar Celebration of Women, Torah & Art / Mothers & Daughters /Wholesome Food Fair / Arts & Crafts / Vendors / Mini Workshops / Live Music
Open to Women of all ages, daughters from age 14 and up
10:30 – 11-30 AM

Open Vendors / Gallery Show

11:30 AM-12:30 PM

Opening Torah Teaching: 'Women Art & Emuna'


Rebbetzin Chana Bracha

12:30 PM

Light Lunch Snacks

1:00 – 2:45 PM

Concurrent Workshops –  SoulStir Creative Movement  | Creative Writing | Art Acrylics

3:00 – 4:15 PM

Women's Concert & Open Mike

4:15-4:30 PM

Closing Blessing Circle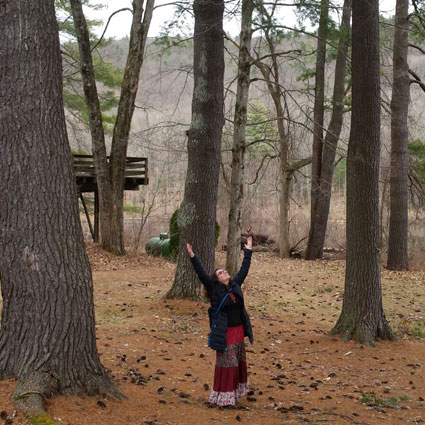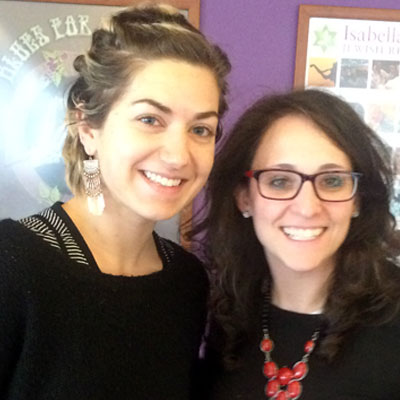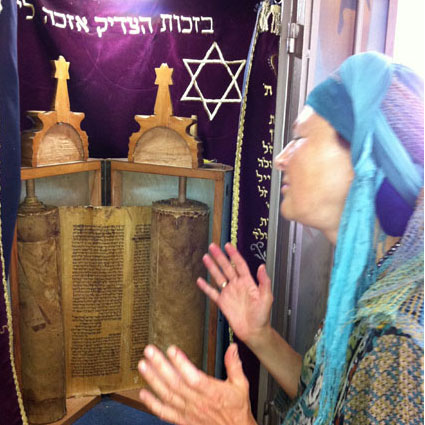 Want to find out more??
Click on the links below
or fill out this form
with your questions…