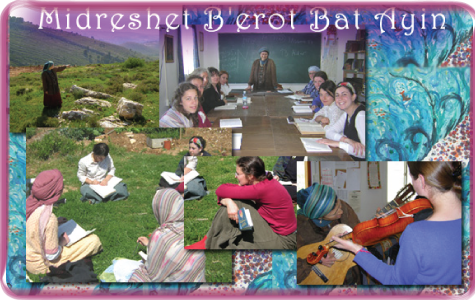 About
Midreshet B'erot Bat Ayin
Nestled in the beautiful Judean Hills just twenty minutes south of Jerusalem, the village of Bat Ayin in Gush Etzion is home to
Midreshet B'erot Bat Ayin: Holistic Torah for Women on the Land
Midreshet B'erot Bat Ayin offers women of all ages and backgrounds the opportunity to receive a well-rounded Torah education while deepening their connection to the land of Israel. The Midrasha attracts both newcomers to Torah who are seeking innovative and challenging Jewish learning as well as students from observant homes who are looking for a fresh perspective and spiritual growth.
Hundreds of women have been inspired to integrate Torah into their lives through their studies at Midreshet B'erot Bat Ayin. The unique learning methods and diverse range of instructors inspire and encourage our students to continuously work on perfecting their character while creating a solid foundation as women in the Jewish world.
Mission and Goals
At Midreshet B'erot Bat Ayin our mission is to create a warm, open environment where women of all ages and backgrounds are able to integrate Torah learning and values into their daily lives, while deepening their connection to the Land of Israel and gaining a greater understanding of their roles as women in the Jewish world. Our primary goal is to engage the whole student– mind, body and soul– through a curriculum which combines academic Torah learning with innovative classes and workshops in spirituality, the arts and agricultural cultivation.
Approach to Learning
Our approach to teaching is to engage the whole person rather than to simply disseminate information. Interwoven with the intellectual understanding is the students' challenge to integrate their learning with creative expression such as movement, drama, art and music, in order to facilitate a personal connection and identification with the role models of our heritage.
At Midreshet B'erot Bat Ayin we encourage women to express themselves through textual analysis with study-partners, independent study and group discussion, as well as through creative workshops and projects.
Through classes, chevruta study and one-on-one mentoring, our students strengthen their Jewish identity and build a strong character and positive self-image. Our teacher hail from a wide range of backgrounds, allow students to experience a wide range of approaches to Judaism. Many of the teachers and staff at Midreshet B'erot Bat Ayin are women and serve as powerful role models for building a Jewish home filled with learning and joy.
Our instructors support and facilitate our students' desire to gain or deepen their skills in learning Torah texts with commentaries from traditional sources. Tanach, Halacha and classical Jewish texts such as Rashi, Rambam, Kuzari, and Maharal offer students the tools and knowledge to deepen and expand their Jewish roots. Classes in Jewish mysticism, Chassidism and Jewish meditation are directed towards the thirst for spiritualism so prominent in our times.
Through skills acquired at Midreshet B'erot Bat Ayin our students learn not only about their unique heritage and culture, but also how Torah insights can be a source of deep personal growth and self-transformation relevant to dilemmas facing Torah observant women in today's modern world.
Connecting with the Land of Israel
The rural setting of the Bat Ayin village nestled in the Judean hills is especially conducive to developing a warm, supportive community of women who develop a strong sense of camaraderie throughout their shared journey towards Torah observance. The stunning panoramic views of the surrounding Judean hills offer radiant sunsets, starry nights and peaceful stillness to energize body and mind while inspiring a special closeness to G-d.
A deep connection to the land of Israel is engendered through regular field trips to historic sites and time spent roaming our school's picturesque natural surroundings. We also provide classes to develop skills in growing vegetables, fruits and herbs in order to emphasize the importance of a healthy lifestyle and herbal healing practices.
To facilitate their integration into Israeli society, students are paired with 'mentor families' and afforded the opportunity to work for families in our community, which is comprised of both native Israelis and olim from a variety of walks of life, including Torah scholars, farmers, artists, laborers and many more. Since our establishment over 15 years ago, the homes and hearts of Bat Ayin families have been opened enthusiastically to our students.
Our Programs
Midreshet B'erot Bat Ayin offers women of all ages and backgrounds a variety of programs including Beginner, Advanced, Orthodox Conversion, Student-Madrichot, Part-Time Learning, summer and Elul Sessions, Special Shabbatonim and Seminars.
Our core project is a yearlong full-time study program for women offered at beginner, intermediate and advanced learning levels. In addition, we offer monthly seminars open to the public for English-speaking women living in Israel.
Courses of study include: Textual Tanach study, Halacha, Classical Jewish philosophy, Tefillah, Women in Judaism, Chassidut, Gardening and Herbology, Creative expression and movement.
We also offer special experiential weekend and holiday programs which have proven to be immensely popular with both our own students and students enrolled in other seminaries. Midreshet B'erot Bat Ayin runs 10 experiential weekend and holiday programs per year.
Student Profile
Women from all walks of life learn at Midreshet B'erot Bat Ayin. Some women have little or no Jewish background, whereas other women come from observant homes and seek to spiritually enrich their Torah knowledge and strengthen their commitment to mitzvah observance. In many cases, without their encounter with Judaism through Midreshet B'erot Bat Ayin, alumnae now living vibrant Jewish lives might have continued in their former path of assimilation and intermarriage.
While many students are originally from the United States, we also boast many other participants from a variety of countries, including but not limited to; Canada, South Africa, Australia, England, Ireland, Czechoslovakia, Holland, Germany, Sweden, Finland and many more! Among our students are also new immigrants to Israel, who find not only a place to learn, but also emotional support from community members who are currently or have previously been in a similar situation.
Students who initially came for a short period often return, as their experiences here provide them with the incentive to make aliyah and live in Israel.
We have educated approximately 600 students since 1994. The ages of our students range from 18-68. Most of our alumnae immigrated to Israel and are raising Jewish families in Eretz Yisrael. Other Alumnae are raising Torah observant families in USA, Europe and elsewhere across the globe. Students have successfully integrated their Torah learning and observance with motherhood and have continued their work as musicians, artists, therapists, teachers and business professions.
Midreshet B'erot Bat Ayin Key Facts and Staff
• Offering programs to students since July 1994
• Recognized by Misrad Hadatot (The Ministry of Religion) in August 1997
• Recognized by MASA (Israel Journey, The Gateway to Long-Term Israel Programs) in September 2005
• Employs 20 teachers & staff members from Gush Etzion/Jerusalem
• Annual Operation Budget approximately $100 000 per year
Program Leaders
• Rebbetzin Chana Bracha Siegelbaum, MA, Director, BEd from Michlalah, Jerusalem College for Women; MA from Touro College
• Rabbi Dr. M. Siegelbaum, Azkenazi Rabbi and Treasurer, graduate of Yale University
• Rabbi Yosef Benarroch, Sephardi Rabbi in charge of the Conversion program
Office Staff
• Elana Benarroch , Director of Faculty and Student Affairs
• Elana Roth, Director of Public Relations
• Sara Covey-Lopez, Public Relations Assistant
• Ruth Simchi, Graphic and Web Design
• Rachelle Silver, Listings and Social Media Coordinator
Well known alumnae include
• Tahlia Rachel Miller, wife of the famous musician Matisyahu
• Hadassah Bar Tzaddok, wife of Rabbi Bar Tzaddok of Yeshiva B'nai Neviim
• Tziona Achishena of Tsfat, recording artist
• Hadassah Komeimi of Jerusalem, recording artist
• Judy Stern, sister of Rabbi Riskin, Efrat